Description
A squad turn-based tactics RPG set on the mean streets of Earth's last city.
Cutting-edge technology meets old-school design in this story-driven game of urban squad tactics, playable solo or cooperatively across a massive 45+ mission campaign. In Project Haven, players lead the Steel Dragons, a mercenary outfit fighting for survival (and profit) on the mean streets of Haven City, the last metropolis on Earth. A corrupt government rules from above, as criminal gangs roam in the alleys of the city's poorer districts. It's a tough, violent place where a streetwise merc can make a lot of money, or die trying. Recruit a team of mismatched mercs, take contracts from the wealthy and fight. Project Haven features detailed turn-based tactical squad combat. Every shot is precision-aimed and ballistically modelled. Every bullet capable of doing terrible damage to a body through an advanced locational injury system. Position your squad through a gridless movement system and hunker down using a flexible stance-based cover system. Project Haven features some of the most involved tactical combat in games today, with a slick and accessible mouse-driven UI.
History
Inspired by strategy classics like the Jagged Alliance series but disappointed by a lack of ways to play them cooperatively, Code Three Fifty One decided they'd rise to the challenge. Project Haven quickly emerged from the flurry of ideas and possibilities. After a massively successful and quick Steam Greenlight campaign in 2015, the team set out to achieve a standalone tactical turn-based experience. To help guide the narrative, the team enlisted the help of Edwin McRae, renowned writer of Path of Exile. After years of hard work, in 2019, Code Three Fifty One is finally ready to showcase the labors of that work.
Features
Surgical precision - Our unique free-aiming system allows players to manually target every shot from a close third-person perspective. Aim for the head for a quick takedown, arms to reduce a target's accuracy, slow them with a leg-shot or just disarm them entirely by shooting the gun out of their hands.
Flexible tactical combat - Hunker down or lean into cover. Use stealth to avoid detection. Throw grenades or heal your mercs. Hack locks or demolish walls to get to your enemies. Navigate the city streets without restrictive square or hex grids.
A deep sci-fi story - Sink into Haven City and learn the harsh realities of humanity's crumbling final bastion. Explore the lives of your mercs and experience a story-driven campaign with fully voiced and motion-captured characters and cinematics.
Assemble your squad - Command a group of mercenaries, each with their own unique personality and attitudes towards their peers. Improve their stats and unlock new skills as they gain battle experience and level up.
This is my weapon - Guns are the tools of your trade, and behave just as they do in real life. Manage magazines and different types of ammo for different situations. Calibers and ammunition types affect how far and how well projectiles penetrate and damage the target. Never forget that last bullet in the chamber, too - it might just save your neck.
Work with or destroy your friends - Play solo or cooperatively up to four players across the entire story campaign, or skirmish (PvP or PvE) in randomly generated maps.
---
Videos
Project Haven - Boss Trailer | gamescom 2021 YouTube
Project Haven - Gameplay Walkthrough | gamescom 2020 YouTube
---
Images
download all screenshots & photos as .zip (150MB)
---
Logo & Icon
download logo files as .zip (10MB)
---
Awards & Recognitions
• Epic MegaGrants Recipient 2020
• The Big Indie Pitch, PC Edition 2020 - Winner
• Digital Dragons, Indie Showcase 2020 - Best Indie Game Nominee
• Indie Arena Booth, Gamescom 2020 - Official Selection
• Indie Live Expo II 2020 - Official Selection
• Indie X 2020 - Showcase Finalist
• MoshBit Awards 2020 - Most Unticipated Portuguese Game Finalist
• WN Dev Contest 2021, by RCP Productions - Best Game Winner
• WN Dev Contest 2021, by XSolla - Best Game Winner
• Dreamhack Beyond 2021 - Official Selection
• Tiny Teams presented by Yogscast 2021 - Official Selection
• Indie Arena Booth, Gamescom 2021 - Official Selection
• Indie Arena Booth Awards, Gamescom 2021 - Best Business Promising Winner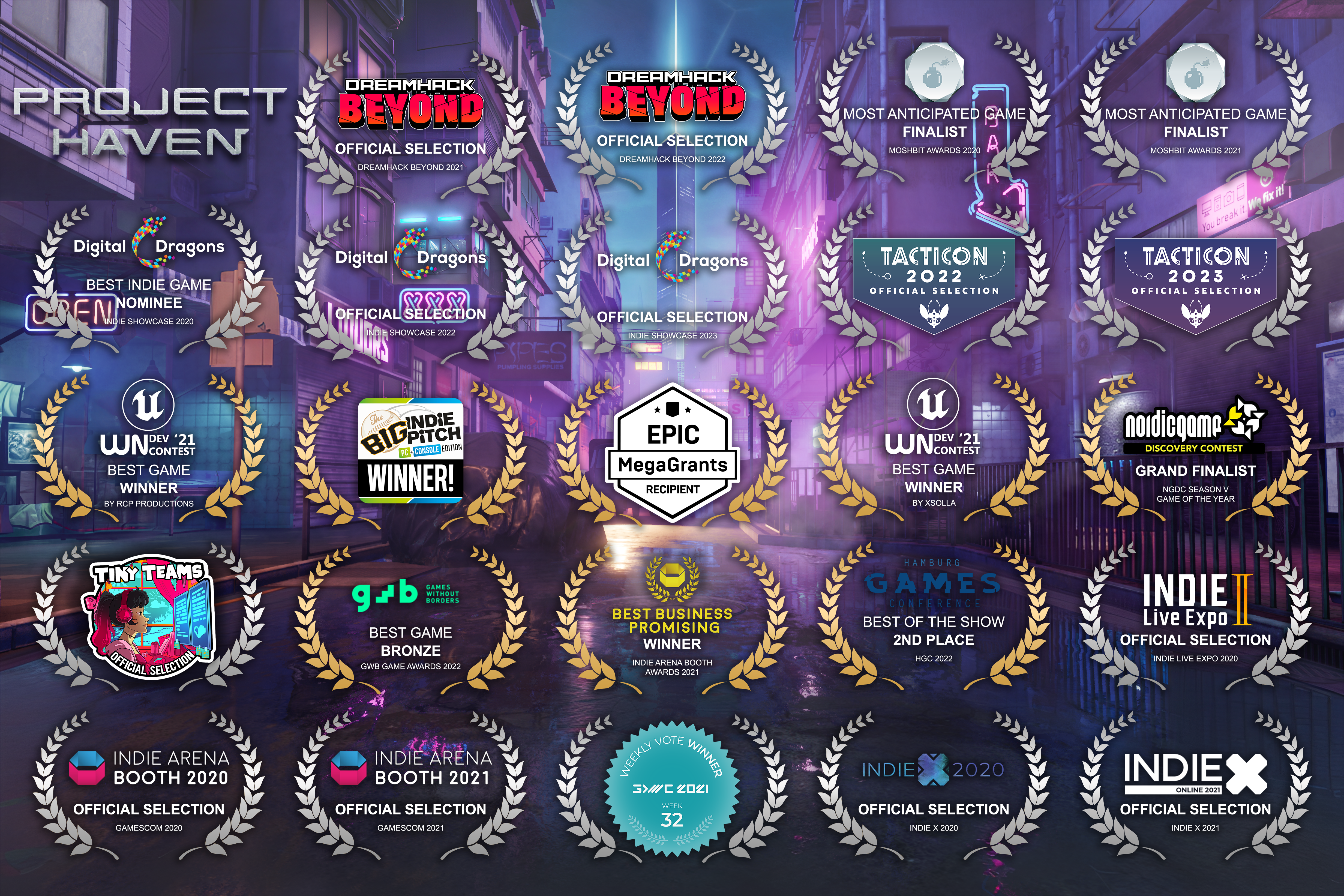 ---
Selected Articles
• CD-Action 12/2019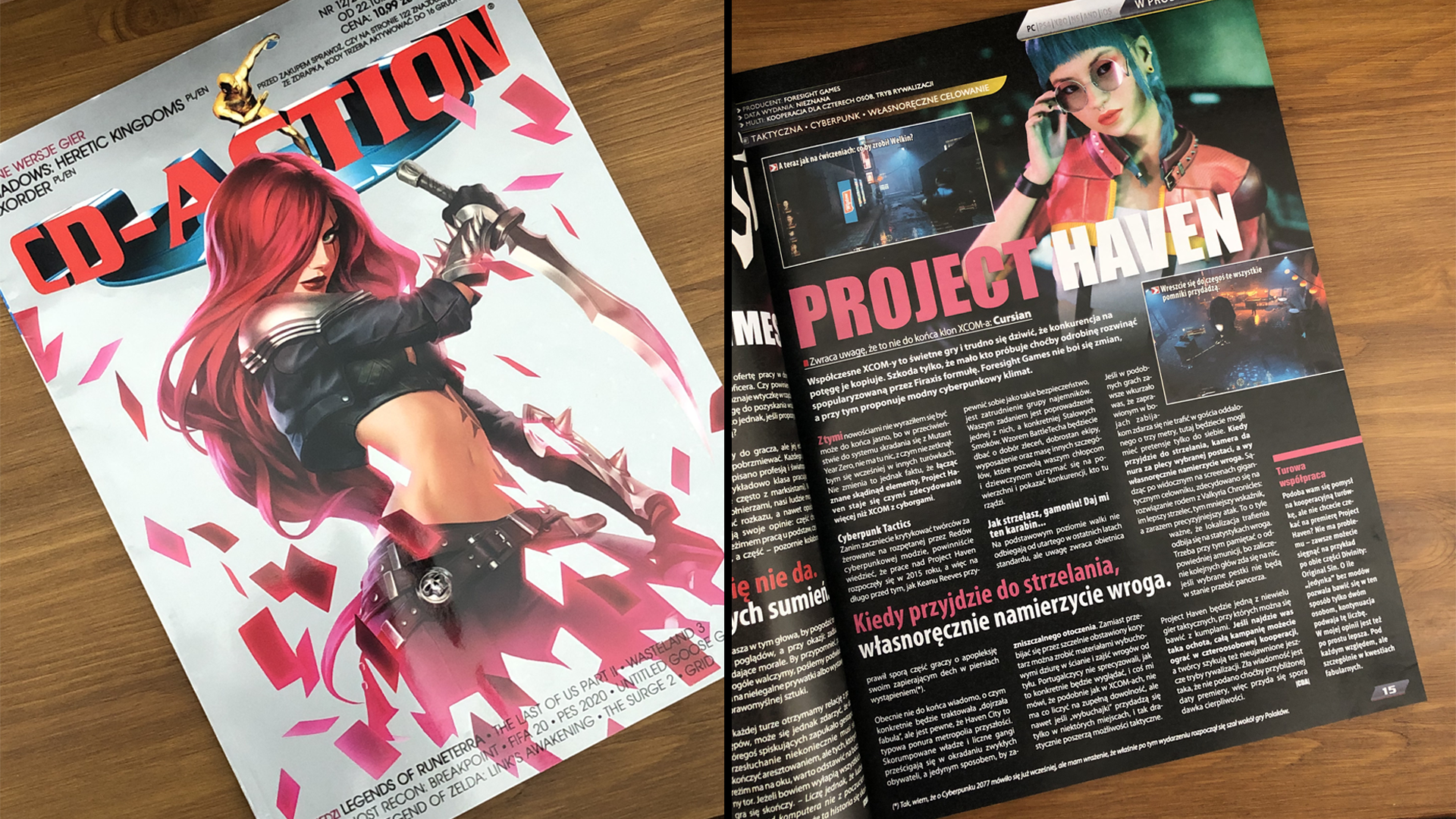 • "A real tactics treat is just around the corner in 2022"
- Alex Walker, Kotaku.au
• "Project Haven could truly be a must have, for all fans of the strategic genre"
- Alessandro Rulli, iCrewPlay.com
• "Project Haven is a top-down turn-based tactics game, of the likes I see far too infrequently of late"
- John Walker, Kotaku.com
• "Code Three Fifty One is well on its way to recreating the good times of yesteryear"
- Peter Bathge, Gamestar.de
• "An ambitious tactical turn based with Portuguese roots"
- Pedro Pestana, IGN.pt
---
About Code Three Fifty One
Boilerplate
Code Three Fifty One is a small independent video-game development studio created by Joana Dimas and Sérgio Gil, a couple from Portugal, aiming to bring intricate and story-rich experiences to the indie space.
More information
More information on Code Three Fifty One, our logo & relevant media are available here.
---
---
presskit() by Rami Ismail (Vlambeer) - also thanks to these fine folks